Pe data de 29 martie are loc la București SEE Property Forum, una dintre cele mai importante conferințe internaționale de real estate din România, organizată de Property Forum în asociere cu RICS. ROFMA se alătură evenimentului ca partener instituțional.
Parte a evenimentelor Property Forum care au loc în întreaga Europă, SEE Property Forum aduce laolaltă directori imobiliari din România și din regiunea ESE, investitori din Europa de Vest și numeroși alți profesioniști în domeniu.

Lista speakerilor evenimentului include:
Andreea Suciu, LL.M. - Head of Employment & Data Protection, Noerr
Codrin Matei, Managing Partner, Crosspoint Real Estate
Costin Banică, Associate Director, Head of Industrial Agency, JLL
Costin Nistor, Head of Property Management, BNP Paribas Real Estate
Cristian Vasiliu, Managing Director, ROFMA
Csaba Bálint, Macroeconomic Analyst, OTP Bank Romania
Hugh Watkins, Managing Director, Vistra Romania
Ingo Nissen, Managing Director Romania, Sonae Sierra
Ionut Cabuz, Sales Manager, Uponor
Jean-Bernard Wurm, Secure Legal Title London, Co-Founder and Managing Director
Mariana Stamate, Associate Director, Head of Property Management JLL Romania
Răzvan Gheorghiu-Testa FRICS, Partner and Head of the Real Estate Practice Group, Ţuca Zbârcea & Asociaţii
Robert Miklo, Director, Investment Services, Colliers International
Roxana Dudau, Associated Partner - Practice Group Real Estate Investment, Noerr
Sorin Preda, Managing Director, Global Vision
Timea Henter, Senior Consultant, Knight Frank
Tudor Ionescu, Senior Workplace Adviser, CBRE
Victor Constantinescu, Partner, Head of Real Estate SEE, Kinstellar
Viviana Pavel, Real Estate & Development Manager SEE, IKEA
Consultați lista tuturor speakerilor în acest link.
Subiecte prezentate și dezbătute:
International investors' roundtable – Meet the new investors of SEE and Romania
Facility and property management in a booming market
Proptech – How the future of real estate impacts our business right now
Brexit and its potential effect on Romania
Workplace solutions – What's next for office developments?
Romanian developers' roundtable – Meet the players who shape the future of cities
Retail & logistics – Opportunities and threats posed by the growth of e-commerce
GDPR – Data protection for the new age
Conflict of interest – Best practices from mature markets
IFRS 16 – The new era of lease accounting
Economic outlook for Romania and SEE
Aflați mai multe în acest link.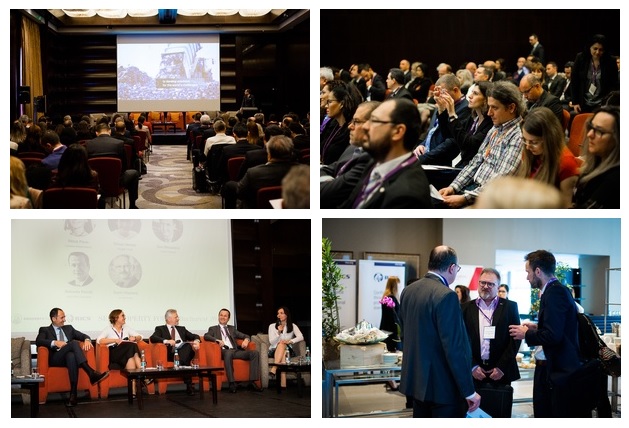 SEE Property Forum are loc
Pe 29 martie
La Radisson Blu Hotel, București
Evenimentul are loc în limba engleză.
Program:
Înregistrare: 08:30-09:00
Conferință: 9:00-17:00
Mai multe detalii în acest link.