It is our pleasure to invite you to the 17th edition of the REALTY Forum organized by Business Review. The event will take place on June 19 at Sheraton Bucharest Hotel, Platinum Hall, starting with 8:30 am.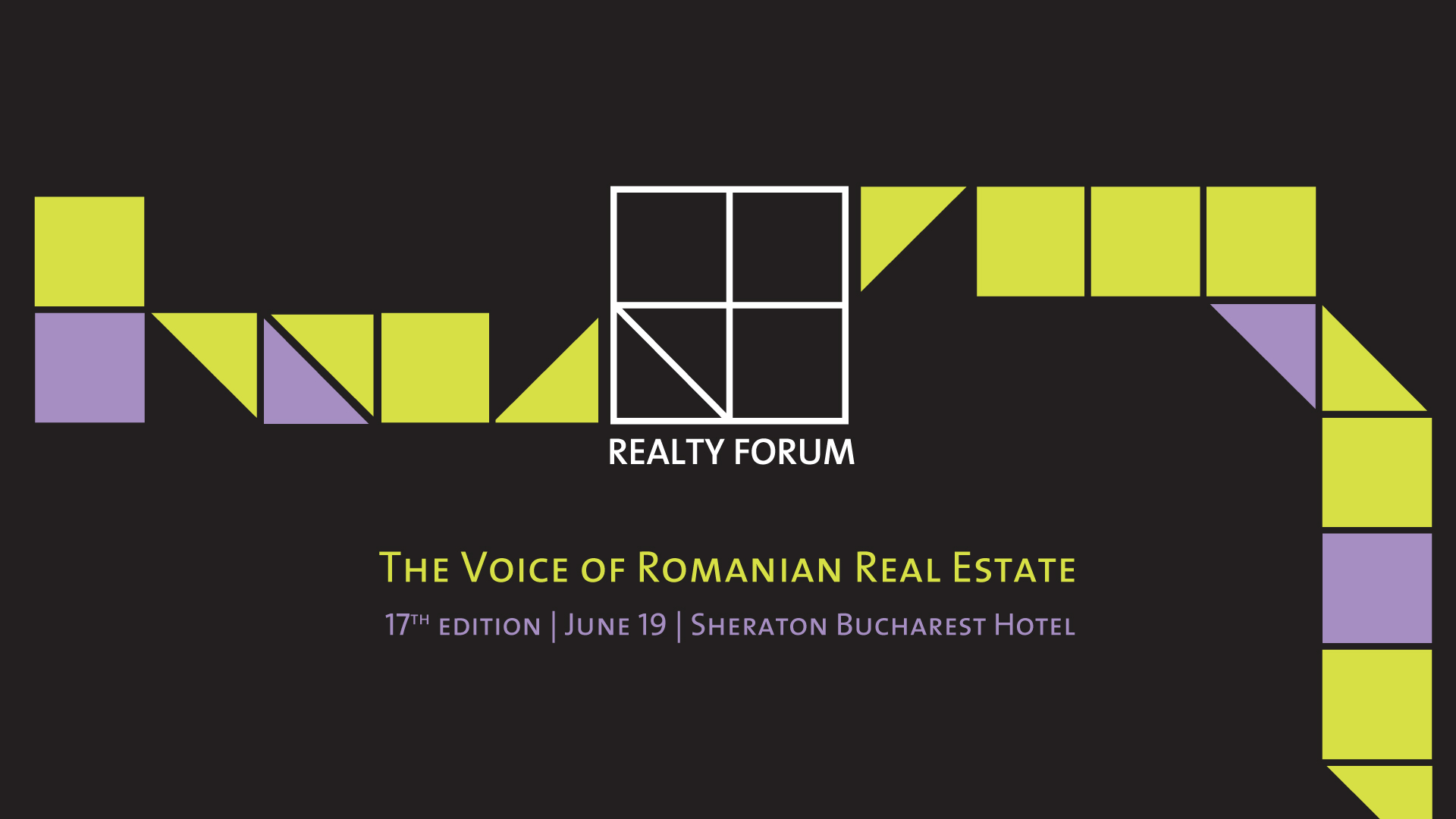 Developers, investors and consultants will come together to share insights on major new investment projects on the local real estate market, new trends shaped by the internal migration of specialists, the hottest business opportunities in the industry and the office of the future.
This year REALTY Forum will focus on the office, residential, commercial and industrial markets in Bucharest, but also on those in Timișoara, Cluj-Napoca, Iași and Brașov to see what makes them so attractive to investors and what it means for the market overall.
20% discount for all ROFMA members (prices starting from 112 Euro + VAT, instead of 140 Euro + VAT). 
Program:
8:30 - 9:00 Registration
9:00 - 9:45 Major NEW investment projects on the local real estate market
09:45 – 10:30 How the internal migration of Romanian specialists shapes new real estate trends
10:30 – 10:45 Coffee break | Networking
10:45 – 13:00 Bucharest vs. secondary cities: the new battleground on the Romanian real estate market
13:00 – 13:30 Lunch | Networking 
13:30 - 14:30 Office of the future
Confirmed speakers include:
Antoniu Panait, Managing Director, Vastint
Sebastian Dragomir, Director | Office Advisory, Colliers International Romania
Florian Nițu, Managing Partner, Popovici Nitu Stoica & Asociatii
Gabriel Tomescu, CEO, BMF Grup
Dorel Niță, Head of Real Estate Analysis Division, imobiliare.ro
Andreea Păun, Managing Partner, Griffes
Ion Sturza, President, Fribourg Capital
Karol Skiba, Investment Director, CVI
Lori Collin, Senior Advisor, Lion's Head
Marcel Ionescu Heroiu, Senior Urban Development Specialist, World Bank Group
Marius Cristea, Senior Urban Development Specialist, World Bank Group
Alexandru Talmazan, Managing Partner, Wrightson Group
Dorin Ștefan, Architect&Owner, DSBA
Marian Orzu, Managing Partner, Dunwell
Didier Balcaen, Project Director, Speedwell Real Estate Development
Beatrice Dumitrascu, Vice-President Residential Sales, One United Properties
Diana Calfa, Managing Partner, Morphoza
 For more information about the conference, agenda and list of speakers, please visit http://business-review.eu/br-events/realty-forum.
We look forward to seeing you at the event!
Contact: Această adresă de email este protejată contra spambots. Trebuie să activați JavaScript pentru a o vedea. | +40 31 040 09 32 | www.business-review.eu